Overview of Tosoh CeramicsGuide
CompanyCompany Information
Established April 2, 1988.
Tosoh Ceramics was created
as a fully owned subsidiary of Tosoh Corporation.
Headquarters and Plant
Headquarters:

3-8-2 Shiba, Minato City, Tokyo 105-8623
Toyama Plant:

2 Iwasekoshi-machi, Toyama City, Toyama Prefecture 931-8371
(5 min. walk from Iwasehama Station on Toyama Light Rail)
Scroll horizontally
Employees

Direct-Hire Employees, as of July 1, 2023

Gender Breakdown

Direct-Hire Employees, as of July 1, 2023

Average Age

Direct-Hire Employees, as of July 1, 2023
What is ceramics?
An advanced material from 10,000 years ago.
Ceramics are one of the three main categories of industrial materials, alongside metals and plastics.
The history of ceramics stretches back 10,000 years,
playing major rules in culture and everyday life since the dawn of human civilization.
History of Ceramics
The Origins of Ceramics
Scroll horizontally

Early Modern Era to Today
Scroll horizontally

The Diverse Functional Properties of Fine Ceramics
According to the Ceramic Society of Japan, ceramics are "non-metallic, inorganic solid materials produced through artificial processing." Additionally, according to JIS R 1600:2011 (Glossary of Terms Related to Fine Ceramics), fine ceramics are defined as "primarily non-metallic, inorganic materials with new functions or properties, with carefully controlled chemical compositions, crystalline structures, microtextured organizations/grain boundaries, forms, and manufacturing processes."
Categories of Ceramics
Scroll horizontally

Main Types of Fine Ceramics
Scroll horizontally
Alumina
Al2O3
Aluminum oxide. One of the most commonly used ceramic materials for fine ceramics.
Zirconia
ZrO2
Zirconium oxide. The strongest and toughest fine ceramic material.
Aluminum Nitride
AlN
With its excellent thermal conductivity, this is often used as packaging material for semiconductor components and other applications requiring heat radiation.
Silicon Carbide
SiC
Does not naturally occur. An exceptional thermally resistant material: it maintains its strength even at high temperatures, and is light yet resists corrosion.
Silicon Nitride
Si3N4
A material with outstanding toughness even at high temperatures and exceptional thermal shock resistance, and which is corrosion-resistant yet lightweight. Used as a material for engine components.
Forsterite
2Mg・SiO2
Features excellent high-temperature insulation properties, with low microwave loss. Used in components for electrical and electronic products.
Cordierite
2MgO・2Al2O3・
5SiO2
Its particularly low thermal expansion gives this excellent thermal shock resistance. A porous, fireproof material.
Barium Titanate
BaTiO3
With some of the highest electrical permittivity of any ceramic material, this is excellent at storing electrical charges, leading to its use in capacitors.
Lead Zirconate Titanate
PZT
Run an electric signal through this piezoelectric material to cause it to vibrate, or use its properties to convert vibrations into an electric signal.
Ferrite
M2+O・Fe2O3
A magnetic ceramic material with high magnetic permeability, as well as significant electrical resistance and abrasion resistance.
Mullite
3Al2O3·2SiO2
This heat-resistant material has excellent creep resistance, as well as superb heat tolerance and thermal shock resistance.
The Possibilities of Ceramics
Ceramics offer a diverse variety of uses, both in products that are a crucial part of everyday life, and in solutions to resource, energy, and environmental issues. As time goes on, the roles they play are expected to only grow more important.
Fields Where Fine Ceramics Are Used
Machinery, Aviation,
and Space
Exploration

Chemicals and
the Environment

Everyday Life
and Sports

Energy

Electronics,
Information, and
Communications

Biotech
and
Medical Care
Our StrengthThe Tosoh Ceramics Advantage
Creating Industry-Leading New Products
with Our World-Class Technical Capabilities
Our parent company Tosoh boasts a leading share of the worldwide market for high-purity,
high-quality zirconia powder manufacturing and sales. We use this Tosoh zirconia powder as a raw material for the development and manufacturing of
outstanding processed products — one of our greatest strengths.
Delivering High-Quality Compounds and Precision Processed Products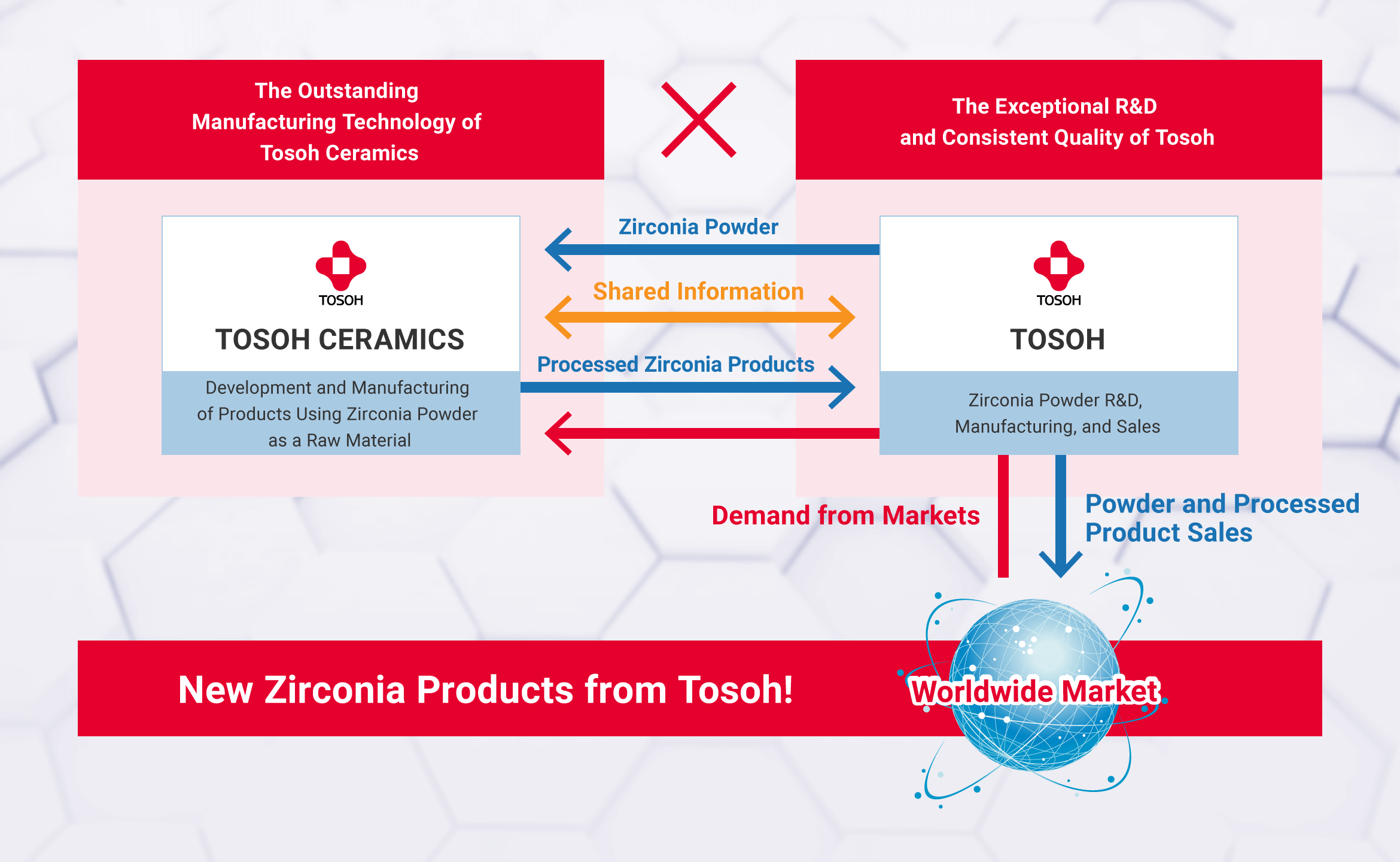 High-Purity, High-Quality Zirconia Powder from Tosoh — the Choice of Clients Worldwide
1We have overcome the brittleness that can be a downside of ceramics, achieving extraordinary toughness and bending strength.
2Our colored zirconia lineup is available in a variety of hues.
3We boast the top market share worldwide for zirconia used as dental materials.
High-Quality Compounds Made Possible through Our Technical Capabilities
Powdered ceramics created through R&D at Tosoh serve as the foundation for our production of high-quality ceramic compounds for injection molding.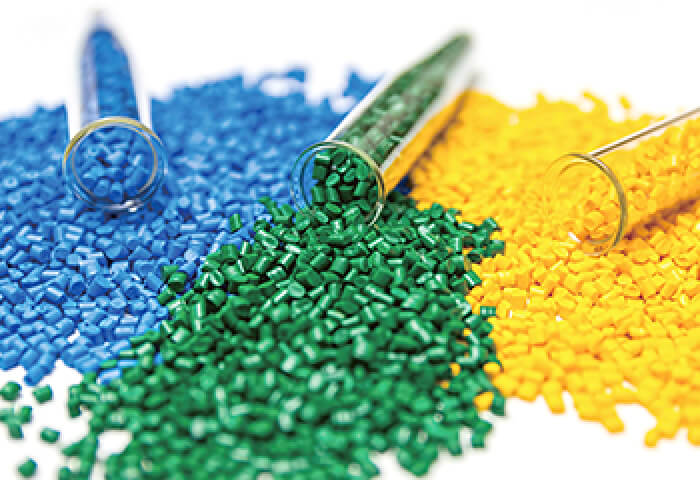 Creating New Products
Tosoh shares the latest updates about worldwide needs with us, and we use our technical capabilities to take advantage of the properties of the powders they have developed, to bring new products to the market.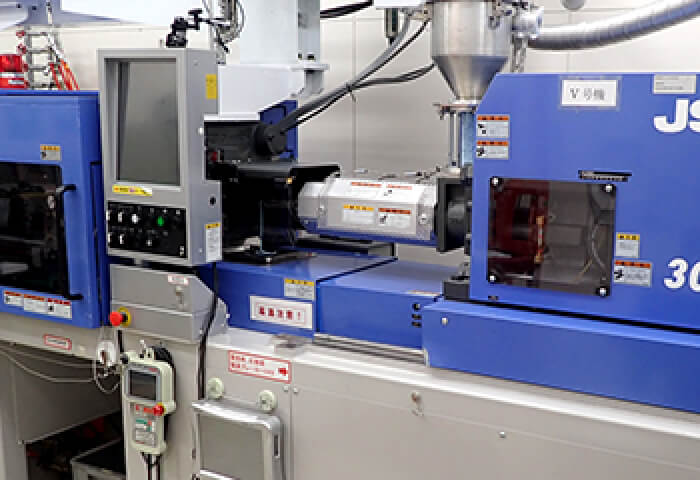 SceneProduct Applications
Tosoh Ceramics, All around You
The ceramic products we manufacture can be found all throughout everyday life: in cars and mobile devices, in medical components, and more.
Our products play myriad roles, both seen and unseen, to support society.
Just like the people who work at Tosoh Ceramics, our products are strong yet friendly.